Sally and Lucy have very distinctive Peanuts dresses – triangular bodice and full skirt, puffy sleeves, and unique collars. Starting from this tunic pattern, I needed to design some extras for the costume myself – collar, skirt, and sleeves.
For Sally's collar, I traced a collar from one of my dress shirts, then cut it in half so I could have the back open (since that's where the button is). Easy enough: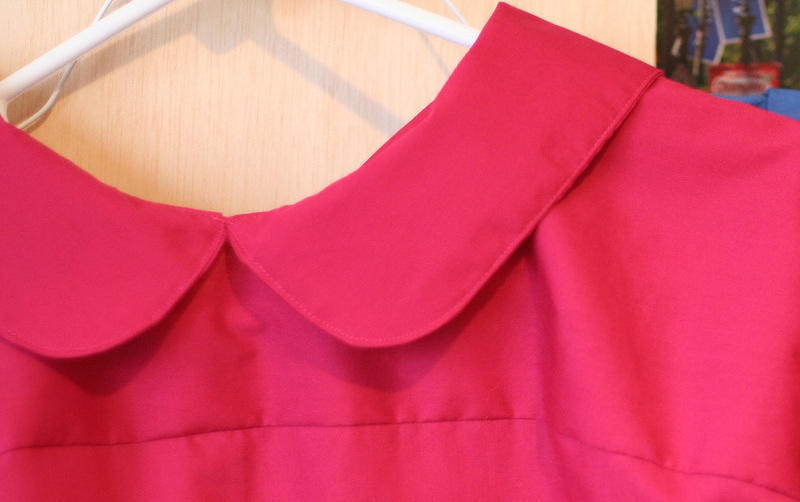 Lucy's collar took a bit more experimenting. My first idea was to cut 2 pieces of fabric with a scalloped outer edge, then sew them together and flip inside out. That didn't work very well, since the part where the scallops meet has to be clipped very very close to the seam (on the inside), and I couldn't get it trimmed close enough to prevent the fabric from getting wonky. So, my second attempt was to make six separate "scallops." Each pair is interfaced to help hold its shape, and then sewed directly to the bodice. I doubled over the hem so all the raw edges are enclosed. After Lucy tried on the dress, I've decided I need to tack these down so they don't flop all over the place. =)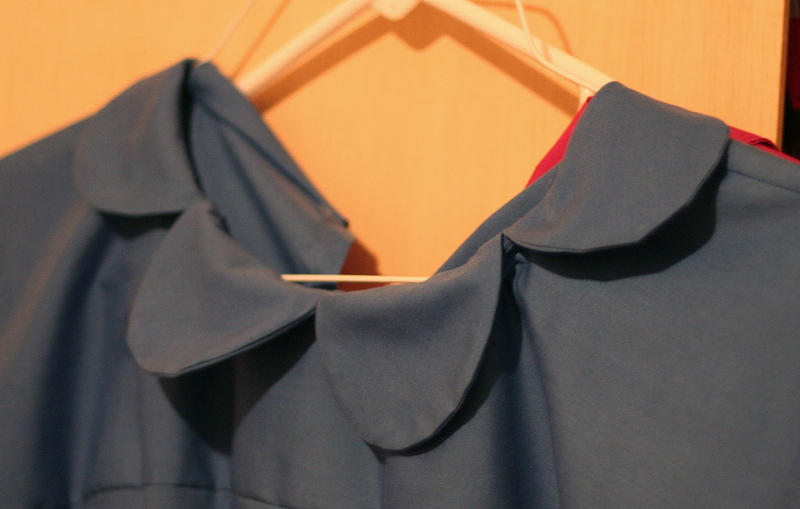 The skirt was the easiest part – I basically cut an entire circle of fabric, then cut an inner circle in it with the circumference to match the width of the bottom of the tunic. It took a fair bit of math (circumference = Ï€*diameter!) but gives a very full skirt, without pleats or gathers. Lucy & Sally need to be able to move freely for the choreography, and since the fabric isn't stretchy, the skirts needed to be very full.
the full skirt laid out with the bodice of the dress piled on top
how the skirt drapes
Next up: puffy sleeves!