My first attempt at Snoopy's costume was to buy a pair of white coveralls – like what a clean-up worker would wear. I thought I would just add a spot, tail, and collar, and be done. Well… the coverall turned out to be very plasticky looking – not good for a furry dog costume.
My second attempt was to purchase 3 yards of white fleece. I traced the basic shape of the coveralls to get started. This is constructed with one piece for the front, two for the back (with a zipper), and individual sleeves.
To create Snoopy's spot on his back, I cut a rough circle from black fleece. After I added the zipper to the back, I sewed half the spot on, and attached velcro to the other side of the spot. The spot "closes" over the zipper, so all you see of the zipper is the top few inches.

I sewed Snoopy's distinctive black collar with more black fleece. The nice thing about fleece is that it's stretchy, so sewing a round collar didn't require any fancy pattern or sewing, just stretching a bit as I went. The collar covers the top edge of the zipper and gives a much cleaner finish than raw fleece.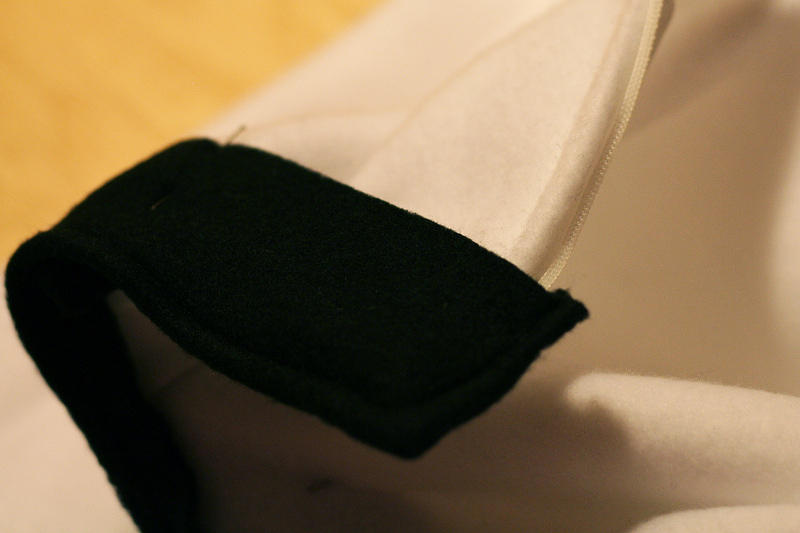 Snoopy's tail took the most fussing. I started with a simple tail shape in white fleece: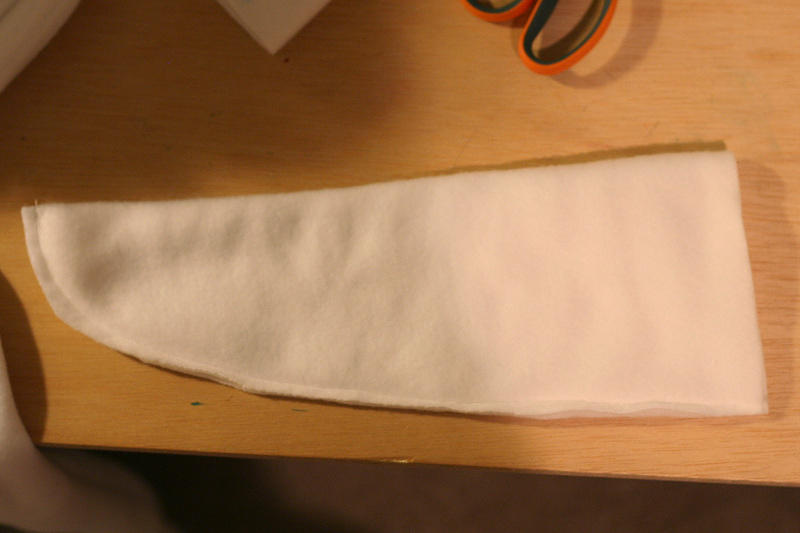 I turned it inside-out, and stuffed it with polyfill. It took some trial-and-error to find the right amount of stuffing to keep the tail's shape and also be flexible and sittable, since Snoopy spends a lot of time lying on top of the dog house.

back view
Snoopy's costume was pretty easy to put together, mostly because it's not fitted at all. Fleece is great material to work with, since the raw edges won't fray. I didn't even finish the edges of Snoopy's spot. The only thing I feel bad about is that this costume is hot! The person who is playing Snoopy is going to be burning up on stage, but at least she'll look fuzzy.